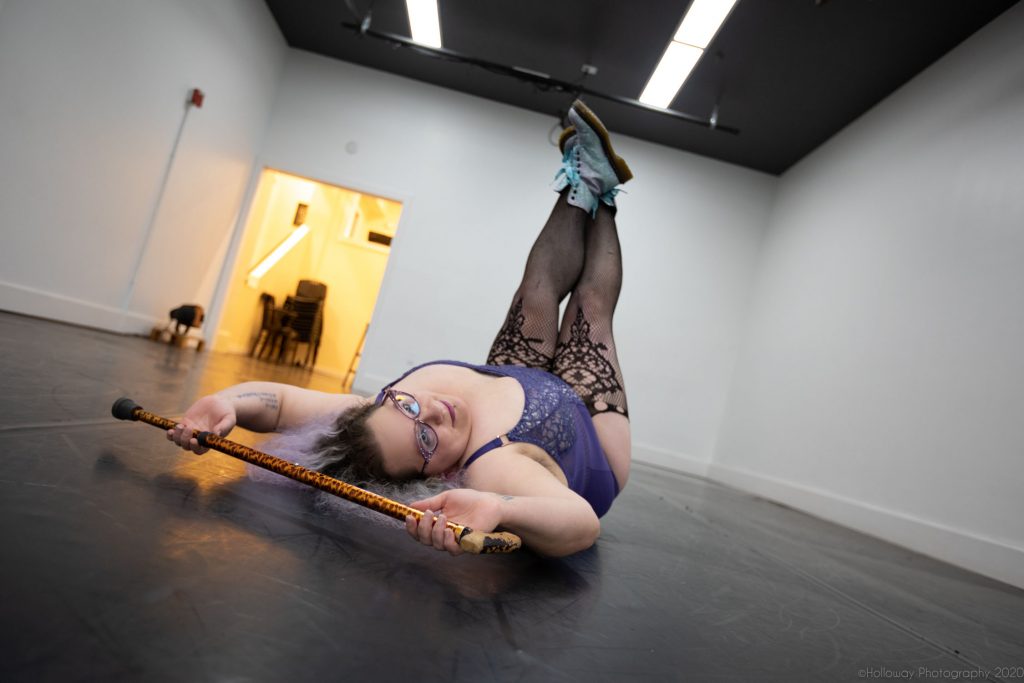 West Wave Festival Returns ONLINE & LIVE
PROGRAM A: Pre-recorded for viewing on Friday, June 11 at 5:00pm PST
How To Have A Body
Friday, June 11 Virtual at 5:00pm PST
Gina Stella dell'Assunta
Reimagined in the age of Covid-19, Stella dell'Assunta's expanded solo show is a love letter to disabled queers and sex workers using storytelling and erotic performance art to portray their trials, joys, humor and heart. As a queer disabled writer, cultural worker, teacher, and performer from San Francisco, she's appeared everywhere from chapels to leather bars to Ivy League colleges. Her work is anthologized in dozens of places, including Foglifter, Sex Still Spoken Here, The Revolution Starts at Home, Take Me There, and Coming & Crying. She holds a Master of Fine Arts in Creative Writing from SFSU. 
PROGRAM B: Pre-recorded for viewing on Saturday, June 12 at 5:00pm PST
Untitled
Choreographed, Performed and filmed by Kevin Wong with Matthew Wong
Kevin Wong's new duet challenges audiences to take a look at their Shelter-in-Place lifestyles from a fresh perspective. Inspired by the way ZOOM dance instructors have transformed their home spaces into studios, both dancers perform in their respective homes and play with different ways to utilize their space using choreography and improvisation. Kevin is from San Francisco; is a Dance Major and Education minor graduate from the UC, Riverside; has been dancing for 18 years with the Flying Angels Chinese Dance Company (is the current Artistic Director); has trained in modern, ballet, hip hop, West African, Capoeira Angola, improvisation, and breaking. Kevin participated in the SAFEhouse Winter 2019 RAW and year-long AIRSPACE residency programs; revitalized the Shawl-Anderson Dance Center Teen Hip Hop classes; performed with hip hop dance team, Project M, plus contemporary dance company, STEAMROLLER.  
They, Not She
Raven Malouf-Renning presents a video dance piece about shedding the feminine character they created to survive in the world so that their metagender self can take center stage in life. Raven is a Lead Artist at SAFEHouse for the Performing Arts, where they created five solo dance films for the organization's Online Digital Showcase series, which they also co-host. Raven has performed with SpectorDance, Big Moves Mass Movement, emFatic dance, Chris Black, Jesse Bie, Dawn Frank Holtan, Kupers and IIE & DanceSingDrum Company. Raven co-organized the Inclusive Performance Festival in April and performed in Wandering In The Wilderness: Cycle 1.
Parasite Kingdom
Written, performed and filmed by Eve Chosak
Eve is presenting a film excerpt of a mythological fairytale musical about healing trauma and addressing global climate change. Eve Chosak MFA, is a playwright, composer, multi-instrumentalist, and performer whose multi-genre concepts integrate sound art, experimental theater, puppetry, and commedia dell'arte, with influences from classical music, world music, jazz, and musical theater. She has written and directed musical productions; performed in theater, world music ensembles, community operas, and punk bands; plus, taught expressive arts, arts-based community building, and interfaith music to children and adults for over 15 years. Chosak was a Classical Voice major at Indiana University School of Music. She studied at the Studio for Interrelated Media at Massachusetts College of Art; Berkeley Jazz Conservatory, Berkeley Rep School of Theatre and ACT.
Unimagined
Choreographed, performed and filmed by Sawako Gannon
Sawako uses primarily dance and music to fit certain ideologies that reveal her artistic authenticity into her work. Sawako Gannon moved to the Bay Area in 2015 to pursue her dance career. Born and raised in Tokyo, she trained in music, ballet and Kendo. She studied dance at SFSU under Ray Tadio and Cathleen McCarthy and also trained with Janice Garrett. 
PROGRAM C: LIVE show on Saturday, June 12 at 8:00pm PST at Joe Goode Annex
Untitled
Dwayne Worthington brings his hip hop ensemble live on stage. Dwayne received his MFA in dance from California State University Long Beach and his BFA from North Carolina School of the Arts. He is currently with Robert Moses' Kin and has been a company member of Randy James Dance Works and Nicholas Leichter Dance. 
Three Times Four
Choreographed and Performed live by Rebekah Enderle
Rebekah Enderle is a lead artist in residence at SAFEhouse. Now based in San Francisco after graduating with a MA from NYU, she makes dances and experimental films. Enderle has presented work at the New York Lift Off Film Festival, Jacob Jonas The Company Digital Film Festival, Joe Goode Annex Virtual Open House 3.0, Kinetech Arts, Inclusive Performance Festival and SAFEhouse.
PROGRAM D: Pre-recorded for viewing on Sunday, June 13 at 5:00pm PST
Seeds and Sequins
Written, performed and filmed by Snowflake Calvert
In this intimate video piece, Snowflake uses ancient storytelling techniques that incorporate spoken word, music, dance, and song. Decolonizing the body's movement and cultural exchange is a key element in her process of creating art, teaching and public speaking engagements. Her collaborator, interdisciplinary artist Europa Grace, infuses personal perspectives and challenges as a Queer non-binary Black American. Snowflake is an Indigneous Two-Spirit dance artist of Yaqui, Raramuri, and Tzotzil heritage who grew up on occupied Turtle Island from a family of Mexican Indigenous immigrants. Her experience as a drag performer has enhanced her performance through the lens of Queerness. She currently resides in Huichin, also known as Oakland, CA.
WAVEring
Choreographed, performed and filmed by JP Bayani
JP Bayani is a queer Filipino Bay Area native, a 2018 UW Madison Dance graduate, and a recipient of First Wave Scholarship. He creates riveting interdisciplinary performances through spoken word and dance about acceptance and coming to terms with living with HIV in a post PrEP era. 
Greet Dance
Sunday, June 13 Virtual at 5:00pm PST
Swathi Lakshmanan, founder and Artistic Director of Choros Charas – Destination for Arts and Nidhi Menon, presents this video dance piece as a part of their Social Dis-Dancing series at WestWave 2021. Swathi trained from age nine with Guru Shri K Mohanan and  Shrimathi Sunitha Mohanan, who motivated and encouraged her to form her company and practice Indian Arts abroad.
Three Times Four
Choreographed, performed and filmed by Rebekah Enderle
This is the filmed version of Rebekah Enderle's live piece. See above for bio.