SAFEhouse welcomes Modern Garage Movement (MGM) for a workshop and performance on August 8th, 2021.
Workshop is 1-2:30pm
Workshop is $25 NOTAFLOF and includes admission to the show at 5pm, as well as the opportunity to perform in a section of the piece.
Performance is @ 5pm $10 NOTAFLOF
See details below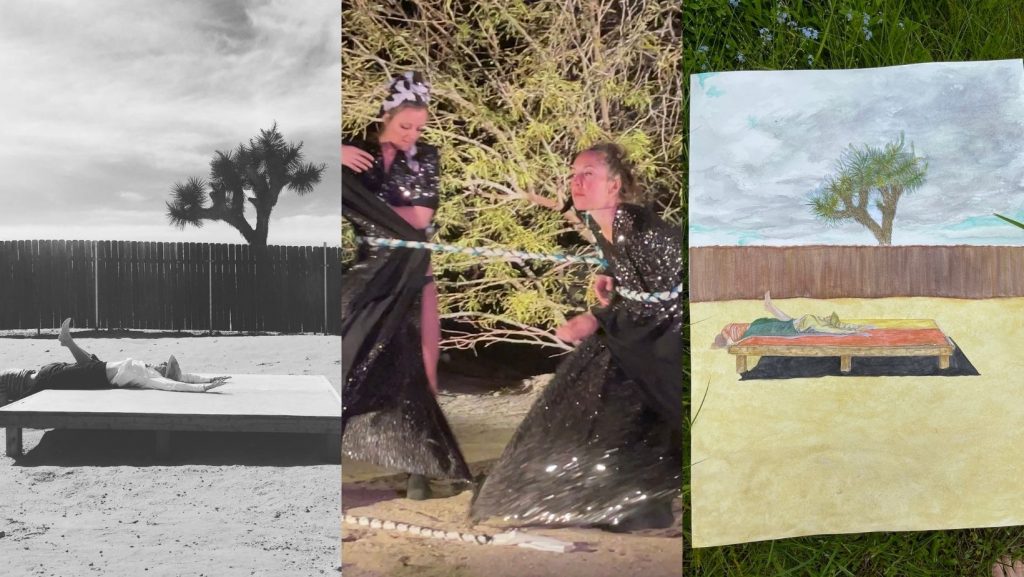 July 8, 2021
Contact: Joe Landini 415-518-1517; joe@safehousearts.org
SAFEhouse for the Performing Arts presents God Knows Where by Modern Garage Movement (MGM)
Live performance One night only, Sunday, August 8, 2021, at 5:00 pm
SAFEhouse Arts, 145 Eddy Street in San Francisco, California
Tickets $10 at SAFEhousearts.org; facebook.com/safehouseartssf
SAFEhouse Arts hosts national touring company, Modern Garage Movement, 
for West Coast premiere of God Knows Where (2021)
San Francisco, California: Live shows have returned to the SAFEhouse Arts venue at 145 Eddy Street in San Francisco's Tenderloin district. Following the grand reopening July 31, 2021, with RAW resident artists, SAFEhouse will host touring artists Biba Bell, Jmy James Kidd and Paige Martin, for one night only, Sunday, August 8, 2021, at 5:00pm. The evening's opening performer, Raven Malouf-Renning, is a SAFEhouse lead artist and is co-producing the event. There is limited general seating so advance ticket purchase highly encouraged. Ticketholders should check website for safety protocol updates.
After a ten-year hiatus, MGM returns with God Knows Where (2021) in collaboration with musician-composers Gelsey Bell and Tara Jane O'Neil
"We began planning this project in 2018, excited to get the band back together for our ten-year reunion tour. Then Covid happened, but we continued to work because we're flexible and adaptable and thought that the limitations could be perceived through a different lens with MGM. MGM's ethos is that we are always ready to perform, which actually is a practice of performing from where we're at, where everyone is at. We've learned through the years how to outfit ourselves for performing in many different types of circumstances. The making of the dance is not separate from the performance of the dance. After our hiatus we understand more clearly how this practice has influenced our work as individuals and how it shows up in the different places of what we do. We're supported by friendship, the local communities we know and dance with, and are not focused on getting inside an institution. We support each other and this is why we want to be back in the collective right now." ~ MGM
Modern Garage Movement (MGM) is the performance collective of Biba Bell, Jmy James Kidd and Paige Martin. Conceived in a one-car garage in San Francisco by Kidd in 2005, MGM takes a single dance and performs it within and across dozens of spaces – mobilizing audience, site, context, and choreography. Dances are made for touring—llama barns, spas, farms, living rooms and attics, backyards, galleries, parks, alleys, stairways, bars, beaches, yoga studios, wineries, packing sheds, museums, theatres, a locker room, grocery store, goddess gift shop, farmer's market, and of course, garages. The work communes with the sonic, sensorial, and visual materials embedded in the sacred sites all around us. Every performance is an offering and a time for gathering. Dance takes form as craft, thing, way, and bodily experience.
MGM was imagined by Jmy James Kidd (2005 – current) and developed with Felicia Ballos (2005 – 2010) and Biba Bell (2005 – current). Other members of MGM include Erin Sylvester (2005 – 06), Rebecca Brooks (2006), Theo Angell (2008), Vanessa Anspaugh (2010), Robert McNeill (2010 – 11), and Paige Martin (2009 – current)
Please consider a preview or review, article or listing to help bring attention to the fact that we are losing performance spaces at an alarming rate. The producers and artists are available to be interviewed. 
BIOGRAPHIES:
Biba Bell (b. Sebastopol, 1976) is a dancer, choreographer and writer based in Detroit with a PhD in Performance Studies from New York University. Her choreographic work, often set in unconventional venues, focuses on domesticity, labor, and architecture and has been presented at the Kitchen, Danspace Project, Movement Research, Centre Pompidou, The Garage for Contemporary Culture, Jack Hanley Gallery, Museum of Contemporary Art Detroit, Detroit Institute of Arts, Insel Hombroich, amongst others. She has performed with Maria Hassabi and Walter Dundervill and is a founding member of Modern Garage Movement (2005-2011, 2021). She is an Assistant Professor in the Maggie Allesee Department of Theatre and Dance at Wayne State. bibabell.com.
Jmy James Kidd makes dances, textiles and community spaces. Jmy is the founder of Pieter Performance Space in Los Angeles, CA. Choreographic commissions include REDCAT, The Kitchen, Made in LA 2014, The Broad, The Getty, Pacific Standard Time 2013. Residencies include Massachusetts Institute of Technology, BOFFO, Museum of Contemporary Art Detroit. Jmy is a 2021 MacDowell Fellow. Jmy is visioning a Music and Dance Temple to be built somewhere sometime in the next 10 years. Jmy frequently collaborates with wife, musician Tara Jane O'Neil.
Paige Martin is a BESSIE award-winning dancer, and choreographer best known as a performer in the company of Neil Greenberg, and from her seminal work with RoseAnne Spradlin. She has been in Richard Maxwell's production of Neutral Hero, and toured the works of Maria Hassabi since 2013.
Raven Malouf-Renning will be performing Surfacing, a homage to who and where we've been during the pandemic lockdown, and the vulnerability of re-emerging into the world as it is now. They combine recorded video and live performance to illustrate how it feels to be in this liminal space. Ravenis a Lead Artist at SAFEHouse where they created five solo dance films and co-hosted the Online Digital Showcase series. They premiered a metagender identity film, They, Not She, for the West Wave Dance Festival in June. Raven has performed with SpectorDance, Big Moves Mass Movement, emFatic dance, Chris Black, Jesse Bie, Dawn Frank Holtan, Kupers and IIE & DanceSingDrum Company. Raven co-organized the Inclusive Performance Festival in April and performed in Wandering In The Wilderness: Cycle 1. 

FREE PRESS TICKETS: You and a guest are welcome to complimentary tickets to the show of your choice. Please confirm by email to Joe Landini: joe@safehousearts.org or call 415-518-1517. 
SAFEhouse for the Performing Arts is a California nonprofit that specializes in incubating new performance art through residencies, workshops and performances. SAFEhouse is funded by San Francisco Grants for the Arts, California Arts Council, Zellerbach Family Foundation, Kenneth Rainin Foundation, Horizons Foundation, Fleishhacker Foundation, Phyllis C. Wattis Foundation, plus generous individuals and businesses.