LIVE RAW Performance on 9/11!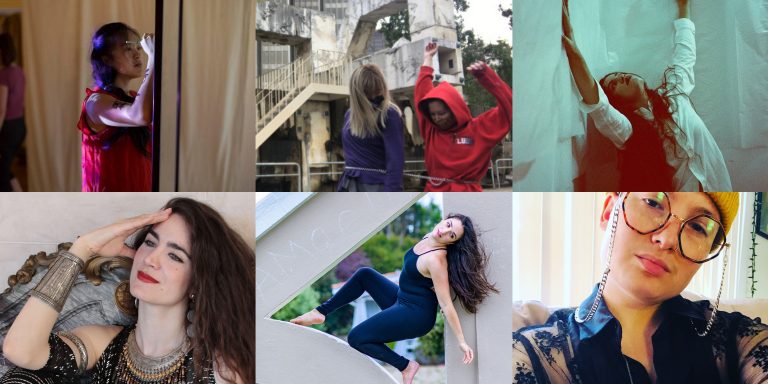 Contact: Joe Landini 415-518-1517; joe@safehousearts.org
SAFEhouse for the Performing Arts presents RAW – Resident Artist Workshop
Live performances: One night only, Saturday, September 11, 2021 
Showtimes: 8pm & 9pm PST – see lineup below
SAFEhouse Arts venue, 145 Eddy Street in San Francisco's Tenderloin district
Tickets $10 
SAFEhouse Arts Welcomes Live Audiences Back!
San Francisco, California: SAFEhouse for the Performing Arts presents RAW: Resident Artists Workshop live performances for in-person audiences one night only, Saturday, September 11, 2021, at 8:00pm. SAFEhouse Arts has launched a new format for live events at their venue located at 145 Eddy Street in San Francisco's Tenderloin. There is limited general seating so advance ticket purchase highly encouraged. Ticketholders should check website for safety protocol updates. 
The next group of RAW artists put their time under lockdown to good use. Rafi Ruffino Darrow, Francesca Cipponeri, Hannah Young, Kat Lin, Sawako Gannon and Bruna Gill are ready to begin anew with live performances! Larissa Archer will screen one of her award-winning dance films made during the pandemic. They all share a passion for dance and were chosen for their talents to get to the heart of what makes us human. They all bring a spark of creative energy to RAW, which in turn provides the venue for rehearsals, videotaping and performances, plus mentorship, marketing and production support! 
It turns out that two of the RAW artists merge art and advocacy. Francesca Cipponeri has been involved in human trafficking-relief work since 2016. Her RAW performance is dedicated to a beautiful, spunky young woman who has survived the horrors of trafficking. Rafi Raffino Darrow believes in making the arts accessible and facilitating solidarity between all of the chronically ill, neurodivergent, and mobility- and sensory-disabled communities they are a part of. Rafi Raffino Darrow points out: "As dance has mainly been constructed as the purview of the nondisabled, white, thin, and cisgender dancer, our marginalized bodies are often originally misread as illegible due to their dissonance with the mainstream vernaculars of movement.  However, I argue that through this inability to have meaning made out of our bodies succinctly, our movement can demand a different level of engagement from the audience with possibility for transformation to a site of love, the "I-Thou" utterance."
Please consider a preview or review, article or listing to help bring attention to the fact that we are losing performance spaces at an alarming rate. The producers and artists are available to be interviewed. 
How to Have a Body by Gina Stella dell'Assunta
I and Thou by Rafi Raffino Darrow is a solo performance piece that traverses the it/thou boundary, claiming and reframing our relationship with being seen toward an act of love, both to ourselves and between performer and viewer.
Ballast by Francesca Cipponeri is inspired by survivors of Human Trafficking. "We all have a grain of sand we are responsible for, and if we each brought our grain of sand together, we would have a mountain"
kinda lit by Kat Lin. Dancers are equipped with flashlights to spotlight where their attention is. And it's only "kinda lit"
666 by Sawako Gannon and Bruna Gill is a modern dance duet about the connection between human beings and how we feel the connection, and how we stay connected.

Project Experiment by Rebekah Enderle and Alex Law

Veils by Larissa Archer, who started making films during the pandemic, is an excerpt from "Isolation Dances" which are short dance and character studies made in public areas. As the city reopens, Larissa continues her shy excursions outside to San Francisco landmarks, a nature retreat and her neighborhood. Two of the films from this series won Outstanding Achievement awards at the Tagore International Film Festival. Larissa will screen one of the films for RAW live.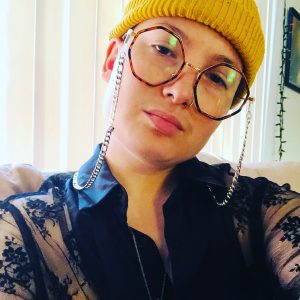 Rafi Ruffino Darrow is a queer, trans, multiply-disabled, white, Jewish femme. They are working to trouble the conventions of disabled dance, and continue their involvement as an illustrator for Sins Invalid. A former Fulbright fellow, they are currently a participant in the Dancing Disability Lab at UCLA. Rafi is also a founding member of the Bay Area Disabled Dance Collective, and lectures on issues of disability justice and dance. You can find them on the Sins Invalid podcast, Into the Crip Universe. They believe in plants, sex worker justice, and the joy and intimacy of inter/intra-disability identification.
Larissa Archer has taught, directed and performed internationally as an actress and dancer. Archer is an art critic with dozens of pieces to her name in Hyperallergic, Frieze, Art Practical, SF Examiner, SF Weekly, The Rumpus, Zyzzyva and more. She received her MA in classical theatre from London's Royal Central School of Speech and Drama.  Her mother, Masha Archer, is a legendary bellydancer. Larissa studied with her mother's protégé, Carolena Nericcio, founder of Fat Chance Belly Dance where she apprenticed before forming San Francisco Bellydance Theater in 2017. Two films from The Isolation Dances won Outstanding Achievement awards at theTagore International Film Festival.
Photo of Larissa Archer by Maya Archer-Doyle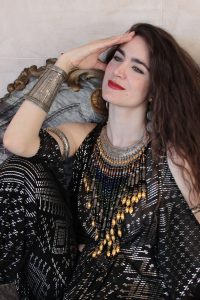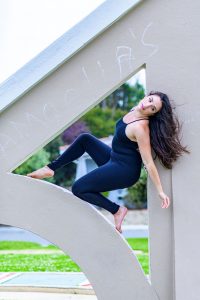 Francesca Cipponeri is a Bay Area dancer and choreographer who currently works as a performing artist with A Pulso Dance Project. Francesca is passionate about capturing seemingly insignificant moments of life and revealing their artistry. She has been involved in human trafficking-relief work since 2016. She seeks to intersect art and advocacy through dance and mixed media. She holds an MFA in Choreography from Mills College.
Photo of Francesca Cipponeri by Kyle Adler 
Sawako Gannon and Bruna Gill are both freelance dancers based in the Bay Area. Sawako uses primarily dance and music to fit certain ideologies that reveal her artistic authenticity into her work. Sawako Gannon moved to the Bay Area in 2015 to pursue her dance career. Born and raised in Tokyo, she trained in music, ballet and Kendo. She studied dance at SFSU under Ray Tadio and Cathleen McCarthy, and also trained with Janice Garrett. 
Photo of Sawako Gannon and Bruna Gill from rehearsal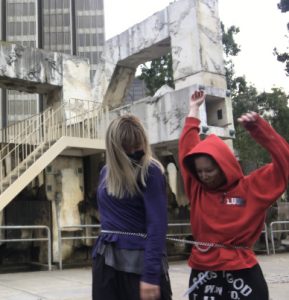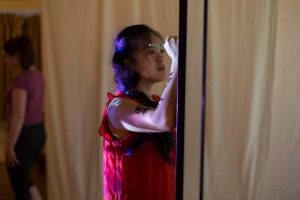 Kat Lin is a dancer/designer who lives in San Francisco. She prefers not to contextualize her art with credentials, except for her love of dance.
Photo of Kat Lin and Holly Taylor by Jen Liu
FREE PRESS TICKETS: You and a guest are welcome to complimentary tickets to the show of your choice. Please confirm by email to Joe Landini: joe@safehousearts.org or call 415-518-1517. 
SAFEhouse for the Performing Arts is a California nonprofit that specializes in incubating new performance art through residencies, workshops and performances. SAFEhouse is funded by San Francisco Grants for the Arts, California Arts Council, Zellerbach Family Foundation, Kenneth Rainin Foundation, Horizons Foundation, Fleishhacker Foundation, Phyllis C. Wattis Foundation, plus generous individuals and businesses.